Services@MediGRID
Services@MediGRID extends the existing Projekts in MediGRID by developing elements for a sustainable MediGRID infrastructure. Services@MediGRID as an independent Project adds a vertical component to the existing middleware of MediGRID. This vertical component goes through all service layers and is the prerequisite to enable economic processes (Fig. 1). .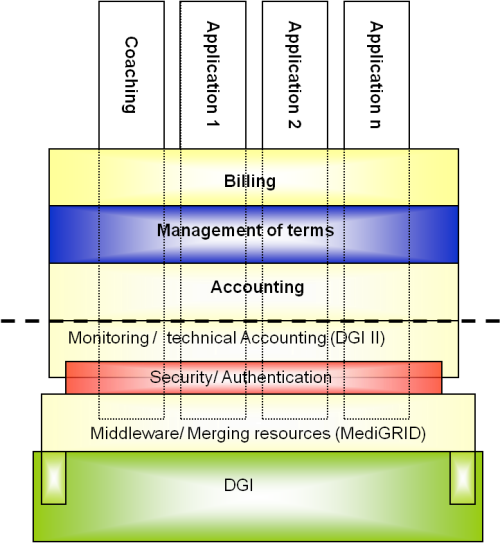 With the embedded partners the most important target groups for a sustainable Grid usage are adressed:
Industial customers: Key users within the scope of IT technology development (c.a.r.u.s. IT), pharmaceutics industry and high throughput screening (Bayer Technology Services, European Screening Port).
Academic customers: Including a special scientific programme of evolutionary biology (Cologne Center for Genomics) with a demand of high performance computing and two molecular biology projects (University Hospital Schleswig-Holstein, Kichhoff Institute for Physics) academic business models will be developed.
Provider of Grid resources: These partners a generic framework for accounting and billing according to the requirements of the DGI core technologies will be given.
The following classes of products will be developend, examined for their market suitability and offered to potential customers:
Services for life sciences, including tasks from coaching to a whole Grid usage

Brokering services (search for appropriate Grid partners)
Continuously coaching
A billing software stack for DGI and other users

Interface to the technical accounting of DGI/DGI II
Professional accounting as an enhancement of the technical accounting
Pricing component
Flexible management of terms (e.g. flatrate or single usage charging)
Billing component
Results according to the specifications of the embedded providers and customers

High content screening
Haplotyper, signatures of selections
Genome browser
Die The project management of Services@MediGRID is closely related to MediGRID and located at the University of Goettingen. Main focus of content is biomedical informatics. For optimal conditions the industrial and academic partners are closely interconnected and coordinated with the project leadership in Goettingen as well as the integration partners in Norderstedt and Stuttgart. Services@MediGRID represents the intermediate within the value chain in biomedical Grid computing between Grid resource providers and Grid customers (Fig. 2).
Project term
January 2008 - December 2010